Content is not available in production insatance.
December 20, 2022
Celebration, Recognition, and Hope

 



Celebration, Recognition, and Hope





Metallica & All Within My Hands

2022 Helping Hands Concert & Auction

Microsoft Theater, Los Angeles





Ultimately, life comes down to a few simple truths. One is how we (individuals, companies, rock bands, etc.) can positively affect our environment. What can you or I do to make the world a better place? Is it a smile and a wave to someone? "Paying it forward" at your local coffee shop? Giving some of those clothes you don't need to a shelter? Even saying a kind word to someone going through tough times can help in this increasingly confusing world.





Metallica has spent the better part of 41 years positively affecting environments from Lafayette to Lisbon, their music, and lyrics a comfort, joy, and salve for millions. They have, for a large amount of that time, quietly looked out for various charities and organizations. Then came the acknowledgment that their name could generate vast sums for many global charities. They could step out into the world and drive philanthropic traffic without looking smug or trite. All Within My Hands was thus born in 2017 and since has been responsible for generating millions upon millions of charitable dollars.*





Their efforts have been a crystal-clear example of positively affecting the environment we all live in…and let me add here, so have many of you. In your tens of thousands, you have donated time and money to causes either tied to AWMH or simply close to you. The clarion call sounded nearly six years ago, and you've stepped up in your droves. So when I say that this third edition of Helping Hands was a celebration, know that from this pen's perspective, it was not just that of Metallica but of how you have stepped up and positively affected your environment. And hey, if none of this relates to you, it's never too late to join the party…





The Microsoft Theater became home to a masterfully produced blend of events. A good ol' fashioned ass-kicking rock show, a slightly more serene acoustic set, and plenty of information and testimonials, all wrapped up in a first-class "TV show" production style. (The event was streamed live by Paramount+ and simulcast by Pluto TV and MTV's YouTube Channel.) Smart-casual? Sort of. How about "smart-casual with some roaring dollops of denim and leather warmly welcomed!"? By the way, if I was to use words to denote the amount of mind-bending work and preparation the show took, this would be the digital version of War and Peace. It looked effortless and spectacular, but hundreds and hundreds of collective hours went into making this event the roaring shindig it was. Then there were fine folks like Jimmy Kimmel, who had contacted the band and made it clear that as a fan, he'd be supremely happy to offer his time and host the evening's events. When it comes to needing a compere for the night when you hardly ever take that route in your shows, it's a bit like Steph Curry rolling up to your pick-up game and saying he'd be cool joining your team. As if that wasn't enough, Robert Downey Jr. was on board to introduce Metallica. And supercalifragilistic rockers Greta Van Fleet threw down their heavy, hazy, groovy flow to get the evening rolling.






 



One of the things which made this celebration feel so spot on was seeing the "Lesser Spotted Heroes." Take Barbie Izquierdo, who grew up trapped in the poverty cycle in North Philadelphia and ended up being a Global Citizen Award winner for her persistent fight against hunger and poverty in our communities. Take First Star's Lyndsey C. Wilson or Baby2Baby's Kelly Sawyer Patricof, leaders in groups championing youth development skills and helping families in need, respectively.





I wasn't going to list everyone, but goddammit, why not? You can NEVER hear the names of these organizations enough. Sharing AWMH's passion for fighting hunger are World Central Kitchen – run by top chef José Andrés alongside Co-Executive Leaders Erin Gore and Erich Broksas – and Feeding America – represented by the aforementioned Barbie Izquierdo. Sharing the Foundation's dedication to workforce education and the skilled trades are Mike Rowe and his mikeroweWORKS Foundation. And representing the Metallica Scholars program is Regina "Reggie" Gregory, a directly-funded Scholar who thanked Metallica for "helping me realize what a bad-ass I can be!"  And then there's friend and fellow philanthropist, skate legend Tony Hawk, whose Skatepark Project collaboration has helped create and expand accessible skating for all.





We even had Carhartt, one of the event's major sponsors, bring leaders from Team Rubicon and FarmLink Project to enjoy the show from their pit sofas. And give their 24 orchestra seats to Metallica scholars from Victor Valley Community College of advanced manufacturing. See, we're back to positively affecting our collective environment because that is pretty damn cool!





Amidst the excellent salutations and recognitions, Metallica arrived onstage. Introduced by the excited and pristine-looking Mr. Downey Jr., they took the stage for their first set: the acoustic selections. For such performances, Avi Vinocur of Goodnight, Texas has become an essential addition to proceedings. His mandolin on "Blackened" and "The Unforgiven" (to name but two) added rich textures and a bravely vulnerable soul. James warmly introduced Avi as "an HQ intern who graduated." When you throw his acoustic guitar -6 and 12 string- and the vocal harmonizing into the equation, Avi is clearly the graduate who became of Professorial importance.






 



Metallica's love affair with Thin Lizzy took on another layer with "Borderline," a further signpost into the Hetfield mind. He thanked Phil Lynott for (co)writing a song "about my life!" …its desolation wrapped in gallant poetic blankets. A vintage UFO treasure, "It's Killing Me," was unfurled at the behest of Lars. Another song of raw revelation and pain, this time from Pete Way and Phil Mogg, which feels so "right" for this band; I'm sure we'll hear it again. And finally, "Whiskey in the Jar" saw Lynott and Co. get a second airing with Thin Lizzy's take on the old Irish classic, bringing "Part 1" to a close.





"The Call of Ktulu" kicked off the second set, its jaw-dropping, omnipotent thunder and majesty helped even more by excellent technical sound, which added a layer of shimmer to every song. But when that marauding, malevolent bastard "Harvester of Sorrow" strode up and decided to have its nasty way with your head, it was truly electric. A touchstone to a whole other level of heavy for the audience, the sofas at the front reeling from the brute force. Nothing like following up slow malevolence with a swift series of Ulrich-propelled-rabbit-punches, the screens awash with dirty mouths amidst the venomously angry "Holier Than Thou." A cracking electric version of the acoustically re-arranged "All Within My Hands" and a crisp "Creeping Death" then brought us to "Sandman." In this theater – with the full-spectrum TV production further augmenting the live show, and in LA, of all places – the song's immortality felt more unquestionable than ever. Ushers were jamming out, forhelvede, cocktail servers too, even the sofa squad were on their feet! If any song captured the impossible blend of "ass-kicking" and "showbiz" on the night, this was it.





It was a case of "Merry Christmas, guvnor, and don't say you never got anything from 'Tallica" when they geared up and went into evisceration mode with "Lux Æterna" from the forthcoming 72 Seasons. Roars of delight rolled through the Microsoft Theater for the song's live debut, though it already feels like a comfortable, broken-in set classic. Special guest St. Vincent provided a beautiful, dynamic, and harmonic juxtaposition to Hetfield for "Nothing Else Matters." And finally, "Seek & Destroy," a song that never gets old, brought this most unique of shindigs to a regretful close. As I watched the tickets from decades of shows littering the screens and curiously invigorating the venue, it seemed to do the opposite. Perhaps it was something to do with "Lux" having just smashed the air to bits. Perhaps it was the festive "end-of-year-par-tay" vibe in the Microsoft Theater.






 



But most likely, it was because as 72 Seasons emerges visible on the horizon, ready to impress itself upon the world in all manner of ways, the reality is clear. For the umpteenth time in the band's career, this increasingly leaner and meaner Metallica is reborn. Looking at the lithe, relaxed, cheeky, yet when necessary aggressive Hetfield, the hair-down, rhythmically transcendent savagery of Trujillo, the Benjamin Button-infused peak-power elite rock star that is Hammett, and the tireless, incessant, purposeful, and raw navigation of Ulrich, this AWMH benefit resonated as being as much about new beginnings and a reinvigorated future. It was a sharp, smart, and confident performance from a band that head into 2023 with as strong a sense of belief in who (and what) they are as they've had for some time. Good times are, indeed, ahead…





– Steffan Chirazi





*A reminder: Every dollar contributed goes directly to the organizations the Foundation supports. All expenses and administrative costs are covered by Metallica and the other members of the Foundation's Board of Directors.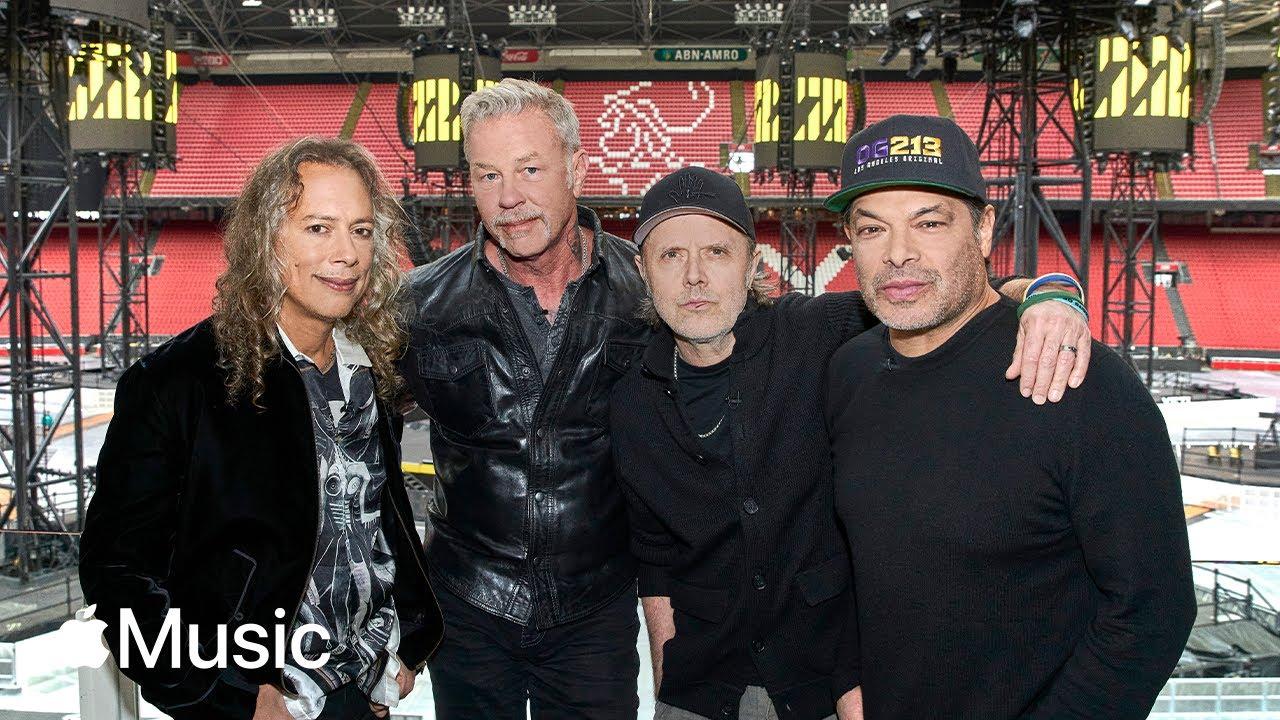 May 11, 2023
Catching Up with Zane Lowe in Amsterdam